Katerina Antonovich is an architect/interior and exterior designer from Russia. She is the owner of the company "Antonovich Design" which is specialized in designing both the interior and exterior, made ​​to order. Style of her designing is very glamorous, luxurious and royal. By looking at her work we get the impression that time has stopped and we sailed into a divine fairy tale.
She was very kind to us and she answered some questions for our Wannabe Magazine.
WANNABE MAGAZINE: You're an amazing architect. You mostly design a interior, but you also design a exterior. What do you love to design more?
Katerina Antonovich: Thank you for your kind words. In fact I have more interior design projects. This is dictated by the needs and desires of my clients. Very often customers want to change the interior of their homes. However, I am equally happy to make the design of interiors and exteriors. But ideally it's when you perform a complex project – the creation of the house from the basement to the complete interior decoration.
Your style of interior and exterior designing is very glamorous, sophisticated, royal and it looks like in a fairytale. What inspires you to create such an amazing design?
The world is tired of minimalism and strictness in the interior. Now many people want to turn your home into a luxurious oasis for a happy life. I find inspiration in many things. The sea breeze is luxurious, as well as the rustling of leaves in the spring garden and a blue sky with white clouds, aren't they? An inexhaustible source of inspiration is travelling for me. Ancient buildings in Europe and amazing modern facilities of big cities inspire for fresh ideas. And each of my work, I really try to make like a fairy tale for the customer.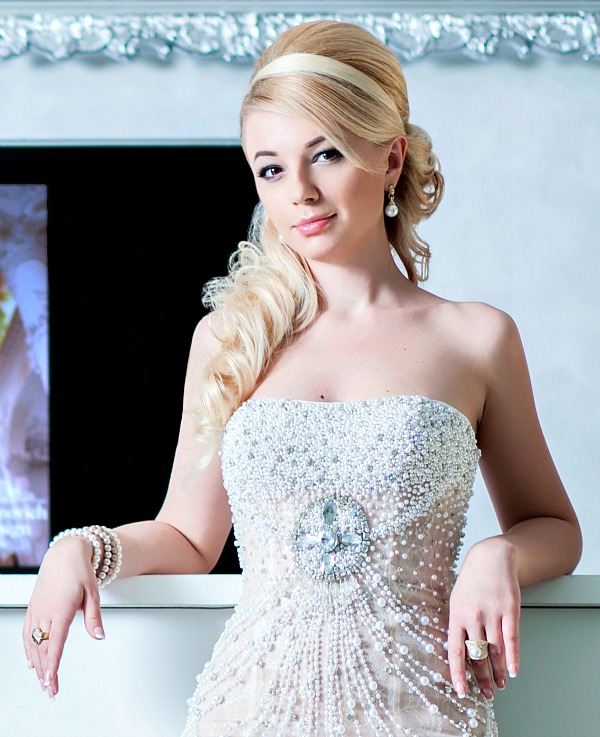 Business studio "Antonovich Design" is absolutely fantastic decorated! You usually create a royal and traditional design with modern details. But when it comes to your business studio and your office, it's predominantly modern design without traditional motives. Is that means that you prefer modern style more than traditional style?
In the interior of our studio we tried to reflect our abilities in creation of interiors. The studio is luxurious and at the same time it reflects the power of modern technology. However, the main goal that we set while developing the project design of our office is to make every customer feel welcome and honored guest. Over a cup of coffee we discuss the project and give everyone the opportunity to become a co-author of their homes.
Based on your photos, I noticed that your office is full of books. What is your favorite literary genre and what is your favorite book?
I can not single out one favorite book, and to list all of my favorite authors and books, we will have to write a separate article. I love the classics of Russian literature, and read with pleasure British and French authors.
We would like to know, which colors do you prefer and which colors are dominating in your private home?
Color is a mood. Sometimes you want peace and comfort in pastel colors, sometimes in bright holiday colors. Every room in my house is a different world. I tried to make a harmonious blend of different styles and colors. Every design I make is individual and unique.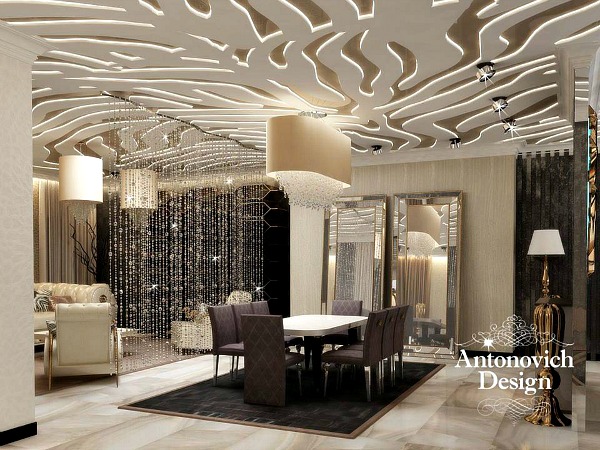 You're always very elegant and sophisticated dressed and based on your photos we realized that you love long dresses with lovely and sparkle crystal details. Who are your favorite fashion designers?
I am fascinated by the designers of the house Chanel, YSL, Cavalli. They perfectly reflect my taste and mood. Their clothes are always exquisite, elegant and luxurious. Buying each model is a little treat for the soul.
Your cooperation with Roberto Cavalli is very interesting. He is a fashion designer but also a interior designer. When two giants as you and Cavalli are doing on a project together, it means that result of your work is spectacular! Could you tell us something about your cooperation with Cavalli, how has it started and what is the idea of it?
Our acquaintance and collaboration began a few years ago. From the first minute of our conversation, we realized that our thoughts, tastes and style of work is very in tune. Work on the showroom of Cavalli in Moscow brought a lot of pleasure. The result is a gorgeous interior that emphasizes the dignity and status, level of the designer.
You were included in glamorous 'Art Space' awards. Could you tell us something about the prize you won and how you felt about the whole 'Art Space' awards project?
Ukrainian Interior Award ARTSPACE is a kind of architectural Oscar. I was very pleased that my architectural solutions and projects were recognized at such a high level. However, the main reward for me is my clients who are satisfied with the work of the studio and recommend us to their friends.
---
Aleksandra Grujić– Student menadžmenta na Fakultetu za uslužni biznis. Obožava svoje roditelje, putovanja i šoping. Veoma zainteresovana za menadžment, arhitekturu, dizajn i knjige. Trenutno piše svoju prvu knjigu i uživa u kreiranju priče i igranju rečima. Smatra da svaka osoba može da voli druge samo onda ako voli sebe. Voleti sebe znači biti zadovoljan sobom i biti kompletna ličnost, dok to opet znači biti ostvaren na svim poljima u životu. Stoga smatra da svako treba neprestano da radi na sebi, kako na svom obrazovanju i ponašanju, tako i na svom izgledu.